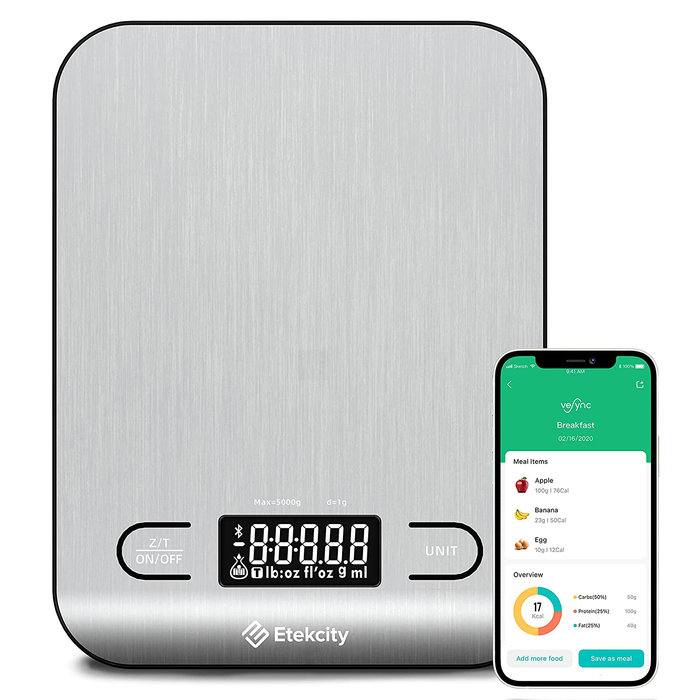 Etekcity Food Nutrition Kitchen Scale, Digital Grams and Ounces for Weight Loss, Baking, Cooking, Keto and Meal Prep, Large, 304 Stainless Steel
Save

0

%
Save %
Original price
$0.00
-
Original price
$0.00
New & Upgraded: Featuring more accurate sensors and a larger weighing area, the Choice Smart Nutrition Scale is the perfect upgrade to any kitchen
Set Goals: Create your own nutrition goals on the free VeSync app with 19 nutrition metrics such as daily calorie intake, sugar intake, and more
Nutritionix Database: Simply scan your food's barcode to automatically add it to VeSync. VeSync receives its food data from Nutritionix's extensive nutrition database
Customizable Units: Choose the measurement units highlighted on the scale's display. By default, the scale shows oz, lb:oz, fl'oz (water/milk), g, mL (water/milk), but you can remove the units you don't use in the VeSync app
Sync Results: Share your progress with coaches, doctors, or friends, and you can sync your nutrition data with Fitbit, Apple Health, and Samsung Health
Size:Large
Updagred Version
This ESN-C551S Nutrition Scale has upgraded the sensors with a better accuracy than our classic EK6015 digital scale. With a 2 grams minimum weight/ 11 pounds maxium weight readout, it can fulfill most measuring needs in kitchen, diy making, garden     etc.
Bluetooth Connection
The smart features provided via VeSync app lets users can scan UPC, search food data, analyse nutrition, share reports, and record/ track your daily, weekly, monthly intake, helping your healthy goal with a scientific method.
User-friendly Design
Besides, the customize features are deisgned friendly, you can keep the units you usually use only, hide the un-used ones, and lengthen/ shorten the auto-off time. Won't be annoyed with pressing the unit button dozens of times, won't be tired of     fast auto-off, you can lengthen it to 5 min manually!
Specifications
     
Weight Capacity: 176oz / 5000g / 11 lbs
     
Units: g/ oz/ lb:oz/ ml (Milk & Water)/ fl'oz (Milk & Water)
     
Measurement Increments: 0.04 oz / 1 g
     
Minimum Measurement: 2g
     
Auto-Off: 0.5 - 5 min
     
Default Auto-Off: 3 min
     
Power: 3 x AAA 1.5V Batteries
     
Dimensions: 9 x 8 x 1 inches
Package Contents
     
1 x Bluetooth Nutrition Scale
     
1 x Quick Start Guide
     
3 x AAA 1.5V

Batteries
     
*Do not mix new and used batteries to power the device.
     
*Please use a cloth to clean, avoid using water flush.