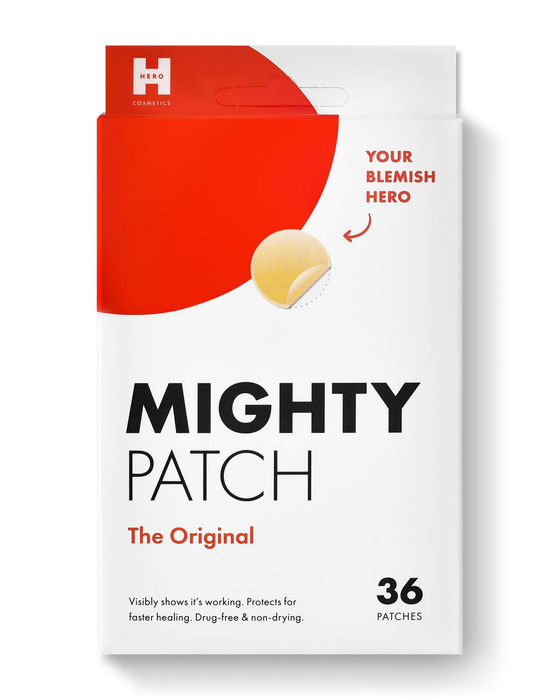 Mighty Patch Original from Hero Cosmetics - Hydrocolloid Acne Pimple Patch for Zits and Blemishes, Spot Treatment Stickers for Face and Skin, Vegan and Cruelty Free (36 Count)
Save

0

%
Save %
Original price
$0.00
-
Original price
$0.00
The Original Award-Winning Acne Patch -- Mighty Patch is a hydrocolloid sticker that improves the look of pimples overnight. No popping necessary. Just stick it on, get some beauty sleep, and wake up with clearer-looking skin
Results in 6-8 Hours -- Absorbs more pimple gunk thanks to our super-premium medical-grade hydrocolloid. Clinically tested, drug-free, and totally gentle
All-Night Adhesion -- Strong enough to stay on through a whole night of tossing, turning, and pillow-squishing. Easy to remove in the AM with zero redness or irritation
Blends Seamlessly into Skin -- Ultra-thin sticker with a translucent matte finish that keeps your pimple under wraps day or night. So comfortable, you'll forget it's even there
Peace-Of-Mind Design -- Our hydrocolloid patches are UV sterilized, non-toxic, and allergy tested. Each box comes with 36 medium dots (12 millimeters) on easy-peel perforated sheets
Product Description
Got a pimple emergency?
Meet Mighty Patch: the smarter way to handle blemishes overnight. Gently absorbs pimple gunk so your zit looks better in just 1-2 patches. No picking, no popping, no harsh chemicals.
What is Mighty Patch Original?
It's a gentle acne patch that improves the look of blemishes overnight – without hurting your skin. Made of 100% pure medical-grade hydrocolloid, a natural fluid-absorbing gel, to absorb pimple gunk and protect your pimple while it's healing.
What pimples does it work best on?
Mighty Patch is perfect for whiteheads (the "poppable" kind of pimple). Leave it on overnight for best results. Not recommended for cystic pimples or blackheads – speak with your doctor or dermatologist for more options.
What else do I need to know?
For external use only. Do not use on open wounds or if you are allergic to pectin or rubber. Consult your doctor before using on sensitive or very dry skin or if you have any known skin allergies. Stop using and ask a doctor if a rash and/or irritation occurs. Keep out of reach of children. Please reach out if you have any questions before usage.
Why Mighty Patch?
Incredible Absorption

Uses the highest grade hydrocolloid to trap pus and impurities.

Good For All Skin

Safe and non-drying for all ages and skin types. Easy to peel off without irritation.

No Picking or Popping

Keeps your pimple covered and protected while it's healing.

100% Gentle

All natural, drug-free, cruelty-free, and vegan-friendly.
How to use Mighty Patch for best results
1. Prep the pimple.

First, identify the right type of zit — Mighty Patch works best on whiteheads.

Cleanse the skin and let it dry. (If you have very dry skin, you may want to apply moisturizer and let it dry completely for up to 30 minutes).

2. Stick the patch on.

Press lightly for 5 seconds to make sure the acne patch is sticking securely, especially around the outer edges. Apply only to dry skin.

3. Take it off after 6+ hours.

Let the patch work its magic for 6 hours or overnight (no more than 10 hours).

Peel it off and moisturize the area.

4. Repeat if needed.

Depending on the size and stage of the whitehead, you might need to use another patch to pull out more gunk. That's normal!

Grab a fresh Mighty Patch and repeat from step 1.
What the press is saying
Allure Best of Beauty Award

2020 Allure Best of Beauty Award, Hero Cosmetics Mighty Patch Original, Best Acne Spot Treatment

Into the Gloss

"It's almost too good to be true. Adhere a tiny sticker—a translucent one that bystanders won't even notice—onto a pimple for anywhere up to eight hours...Now cheer because you have defeated yet another zit…".

Refinery29

"These whisper-thin acne patches draw out pus like no other and disappear completely under a dot of concealer."

** 2018 Beauty Innovator Award Winner **
Stages of a Pimple
Not sure when to use which product?
Get your skin back to healthy in days, not weeks.
Use

Micropoint for

Blemishes

for early-stage "blind" pimples.
Use

Mighty Patch Original, Invisible+

or

Surface

on whiteheads.
Use

Rescue Balm

post-pimple to visibly renew skin after a pimple.
Use

Micropoint for Dark Spots

to improve the look of post-blemish marks.
| | | | | | | |
| --- | --- | --- | --- | --- | --- | --- |
| | | | | | | |
| Best For | Early-stage "hidden" pimples | Single Whiteheads | Single Whiteheads | Clusters of Whiteheads | Just-patched (or popped) blemishes | Post-blemish marks, dark spots, and sun spots |
| Count / Size | (6) 18mm dots | (36 or 72) 12mm dots | (24) 12mm dots, 15 10mm dots | (10) 60x25mm strips | 15ml/0.507 fl. oz. | (6) 18mm dots |
| Recommended application time | ~6 hours | ~6 hours | ~6 hours | ~6 hours | 1-2 times daily | ~6 hours |
| Seamless tapered edges | | | ✓ | ✓ | | |
| No animal testing | ✓ | ✓ | ✓ | ✓ | ✓ | ✓ |
| Non-irritating & non-drying | ✓ | ✓ | ✓ | ✓ | ✓ | ✓ |
| Allergy tested | ✓ | ✓ | ✓ | ✓ | ✓ | ✓ |
| Clinically tested | ✓ | ✓ | ✓ | ✓ | ✓ | ✓ |
| Easy-peel perforated sheets | | ✓ | ✓ | ✓ | | ✓ |
| Targeted ingredients | ✓ | | | | ✓ | ✓ |